Giày Đi Moto - Alpinestars SMX-1 R Vented Boots
Mã SP: SMX1R Vented Yellow
Size: Liên hệ 0919 723 823 để biết size hiện còn
Giá: 3.680.000đ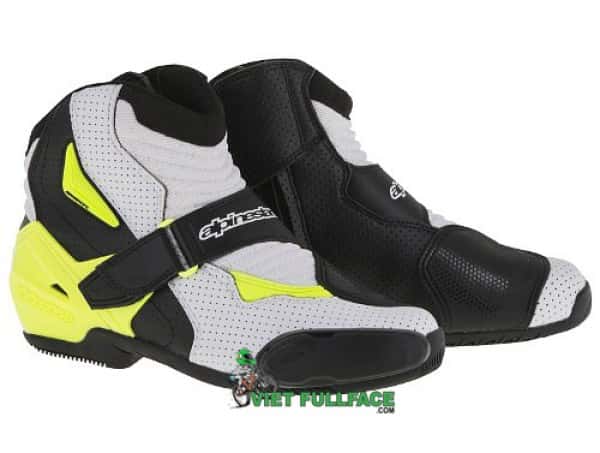 Giày Đi Moto - Alpinestars SMX-1 R Vented Boots
Mô tả sản phẩm:
* MẪU GIÀY BÁN CHẠY SỐ 1 CỦA ALPINESTER
* THIẾT KẾ THỜI TRANG , BẢO VỆ TỐT , DỄ ĐI
* DÒNG VENTED VỚI LỖ THÔNG HƠI , THOÁNG MÁT .
Alpinestars SMX-1 R Vented Boots
Riding a sport bike in tennis shoes is not always the best, safest or most comfortable way to ride, but then again neither is wearing a full race boot. To split the difference the Alpinestars SMX-1 R Vented Boots are designed to bridge the gap, blending the protection and features found in Alpinestars' race boots with a low-top design that is comfortable and easy to wear. Constructed from a lightweight and abrasion-resistant microfiber upper and is reinforced with strategically positioned TPU protectors the SMX-1 R features an evolutionary new rubber compound sole with superior grip patterning for excellent grip both on and off the bike, while the accordion flex zones give support and control regardless of your riding position.
Features:
Main upper constructed from an advanced microfiber for comfort, durability and excellent abrasion resistance
Perforated medial, lateral and toe panels for superb ventilation
Innovative heel counter support system, which works in conjunction with strap closure to offer improved fit and support as well as structural integrity
Rear of heel counter has been redesigned with soft TPR insert which works seamlessly with rear flex zone to allow for greater freedom of ankle movement and comfort on the bike's controls, plus durable TPR shift pad
Ergonomic new boot shaping for forefoot streamlining which offers wide-ranging foot profile, fit and comfort
Newly designed TPR medial and lateral side protection offers excellent abrasion resistance and durability
Evolved closure strap which is anatomically angled to follow natural shape of rider's instep
Alpinestars exclusive compound rubber sole with newly designed grip patterning to promote improved feel and grip, water dispersion and durability
Instep and Achilles' accordion flex zones constructed from lightweight microfiber for optimized levels of durability, comfort and maneuverability on and off the bike
Front VELCRO® brand closures offer a quick and secure fit over the instep area while permitting excellent levels of flex Strap features TPR puller for ease of use
Medial zip closure ensures convenient in and out; zip is covered with VELCRO® brand closures and microfiber flap to protect bike from scratches
Double density ankle protector on medial side layered under the upper offers protective performance and abrasion resistance in key area
Integrated, replaceable bi-injected TPU forefoot slider features new easy-screw fixing concept for quicker and easier replacement
External, high modulus TPU heel counter, lateral ankle and shift pad for improved shock protection and durability
Internal toe box protection is layered under the upper for durability, improved feel and performance
Removable anatomic foot-bed includes EVA foam and Lycra for convenience, comfort and support
Internal mesh lining for cooling comfort and moisture-wicking
CE certified to Cat 2 CE Certified to 89/686/ECC EU Directive